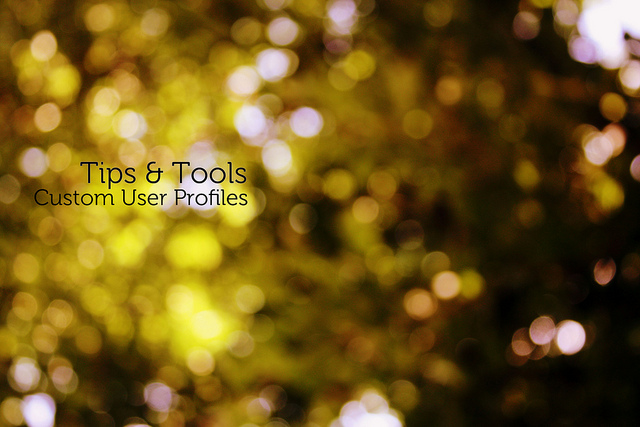 I've been meaning to make a quick post (HA. Quick, yeah right. They're never quick!) about custom user profiles for a while now, but a comment yesterday and yet another Flickrmail this morning prompted me to actually get my butt in gear and write it up!
Your photos are always so crisp and warm, how can I get my photos to look like that?
There are a lot of ways to answer this, and each one would be right, but in my humble opinion there are three key factors in producing images like this, and that's what I'll touch on for you. The first would be that I use a prime lens, and a pretty darn good one at that. It's a Canon 50mm 1.4, but if you don't use a Canon body I would recommend the Sigma 50mm 1.4! Prime lenses tend to produce a crisper image and allow you to have a shallow depth of field (one small/medium area in focus and the rest of your photo is blurred) and I can guarantee you that the image feel and quality we're talking about would have not have been possible on my kit 18-55mm zoom lens. Believe me, I tried. (Just last night, in fact!) Does it have to be a 50mm? No. But if you're looking for crisp without the aid of Photoshop, it should probably be prime. For those of you wondering what the heck a "prime lens" is, it's simply a fixed focal point! There's no zoom!
The second trick is using a custom user profile. Sure, you can obtain these colors in Photoshop, but why bothering tinkering around for a few hours on a batch of photos when you can have it almost exactly the way you want it SOOC (straight out of the camera)? Let your camera do the work for you! That's why you paid for a DSLR, for the magic in the body! Now, I could tell you to refer to your manual on how to create a custom user profile, but because I'm awesome pants, I just happen to have a photo walk through written up.
First off, I use a Canon Digital Rebel XTi, so if you use a different Canon body the menus will be slightly different, but this should still give you a pretty good idea of where to go. If you use a Nikon, I am not sure how to create custom user profiles, but would assume that it's possible to do so. I apologize but since I don't have one in front of me to fiddle with at the moment, I can't list the how-to on that. (Perhaps one day soon! Or perhaps I'll find a Nikon user to post a how-to!)
From the main screen, you'll want to select menu, and then move to the second settings menu screen, which will look like this. Select "Picture Style". (Usually they are "Standard, Portrait, Landscape," etc.)


On this next screen, scroll down until you reach User Def. 1 and push your blue "Jump" button to advance to the details part of this custom profile.


Now here's the fun part! You get to take a bunch of photos and decide your profile based on your personal preference. Now, I use three custom profiles interchangeably, one for every day shooting, one for portraits (it's softer), and one for when I'm inside at night and I don't want my photos looking ridiculously orange. (You know what I mean!) Pictured here is my every day profile. I selected Standard as my base and then adjusted to taste!

Pretty neat, huh? And super easy, too! Now, if you're shooting in RAW format you won't see these colors as much (if at all), they show up on the JPEG format, so be sure you're shooting in JPEG + RAW (or just JPEG technically but I don't recommend that simply because you can go crazy with your RAW files!)
All that is left, literally, is to adjust your photo for the web, because trust me, it looks awesome right now on your camera screen and your computer screen but when you upload it to Flickr it won't look quite so hot. So depending on the photo you'll need to make different touch ups. For a typical photo I will tweak the vibrancy (Image, Adjustments, Vibrance) and contrast (Ctrl + L), so that it looks like it does on my camera, but that's all I need!! The times of slaving in Photoshop are over, now you'll be free to tinker, adjust, and if you happen to enjoy playing in Photoshop (which I absolutely do) it will be four hours of fun instead of frustration.
I hope this tutorial helped you all in some way, please comment and let me know if you found it useful! It's the first tutorial I've ever done and I'd like to know if it helped someone, how I can improve, or if I should make more in the future. And of course, if you have any other questions, feel free to ask and I'll do the best I can to help!